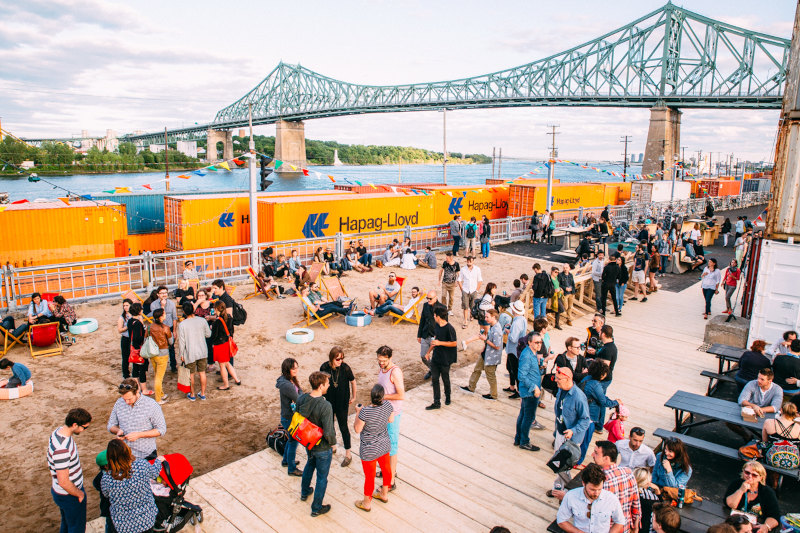 Photo credit: La Pépinière | Espaces collectifs
It is well known that in Montreal, there is never a dull moment! With its cultural events, green spaces and many activities, it's a great city to live in. 
One of the actors that contributes to making Montreal's neighbourhoods so lively is La Pépinière | Espaces Collectifs. This non-profit organization assists municipalities in the creation and redevelopment of public spaces throughout Montreal.
Their mission
Founded in 2014, La Pépinière's mission has always been to bring back community life to the heart of Montreal's neighborhoods.
To do so, the organization has set up various programs that allow municipalities and various private sector actors to initiate projects to create collective spaces.
Combining expertise in urban planning, events and social innovation, La Pépinière has all the necessary tools to create unique and participatory spaces. 
Over the years, the organization has contributed to the creation of some forty gathering places throughout the city. Their projects include terraces, playgrounds, cafés and various outdoor spaces with a festive atmosphere. 
One of the most popular sites in the Pépinière is the Village au Pied-du-Courant. Located on the riverfront near the Jacques-Cartier Bridge, it is a magnificent urban beach where festive, cultural and educational events of all kinds take place. The Village au Pied-du-Courant recently opened its doors for the summer of 2021 and welcomes visitors from Thursday to Sunday. Check out their program to find out about upcoming events!
A relevant initiative during the pandemic
In the context of the pandemic, La Pépinière's revaluation of public spaces was more relevant than ever. 
Indeed, during the pandemic, the closure of most gathering places accentuated the importance of parks and other outdoor public spaces. More importantly, the isolation caused by the health measures highlighted the need for socialization and community. 
As for La Pépinière's facilities, they were obviously adapted to the pandemic context, with distancing measures to be respected. 
Nevertheless, the organization managed to open 6 new sites last summer and even offered activities to Montrealers during the winter, with spaces such as the La Fontaine pond, among others. 
Citizens get involved
As demonstrated by the projects implemented by La Pépinière, many of which were born of citizen initiatives, the commitment of Montrealers to their neighbourhoods and communities is remarkable. 
In addition, the mobilization of citizens to reclaim their spaces exists in other forms than the one proposed by La Pépinière in Montreal. In fact, several municipal programs are in place to allow Montrealers to improve their living environments to make them more enjoyable.
For example, green alleyways, which are found throughout the city, are created at the initiative of citizens and serve as gathering places for neighbors, while having an ecological benefit, since they reduce heat islands.
Another good example of citizen involvement is the community alleyways in the Lachine borough. With this program, the borough encourages its community to reappropriate its many alleys and transform them into play areas, green spaces or meeting places for neighbors. 
In short, if you wish to contribute to the development of collective spaces in your neighbourhood, many solutions exist. We invite you to take a look at La Pépinière's website to learn about their programs, as well as the various citizen engagement programs offered by the City of Montreal.