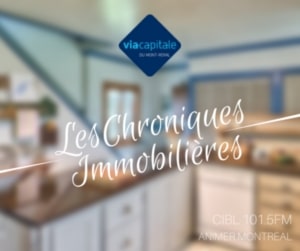 This week on Les Oranges Pressées sur CIBL, we'll be talking about the walkability of neighbourhoods and the impact it can have on property prices in Quebec.
We know that proximity to a metro station can be a deciding factor when purchasing a property in Montreal. But what about pedestrian accessibility to key services, what is commonly known as walkability?

Walk Score
Walk Score is a website that takes into consideration this notion of proximity. Simply write in an address and the website will calculate the walking distance in relation to 13 units of measurement. The Walk Score takes into account a wide array of places: supermarkets and grocery stores, cafes, movie theatres, parks, bookstores, pharmacies, restaurants, bars, schools, libraries, gyms, hardware stores, clothing stores, and music shops. However, it does not include metro or bus lines.
The calculation will generate a number between 0 and 100, representing the walking distance between the address provided and nearby places.
The closer the number is to 100 the better, since a higher value signifies that the property is at a reasonable distance from key services, and by extent, is more valuable. For example, the Plateau-Mont-Royal borough has a Walk Score of 98, while Hochelaga-Maisonneuve has an 88.

Impact of the Walk Score on prices of homes and condominiums
In a recent study, the Quebec Federation of Real Estate Boards looked at Walk Scores in three Census Metropolitan Areas (CMAs): Montreal, Quebec, and Gatineau. The analysis revealed that regardless of the region, condominiums have a higher Walk Score value than single-family homes.
The same study also highlights the correlation between the high price of real estate and the pedestrian proximity of shops. The impact is even more considerable in the Montreal area, with a price increase of 0.21% for condominiums. Thus, a high Walk Score adds value to a property, and this is especially the case if we find ourselves in Montreal rather than in Quebec or Gatineau.

Bike Score
It is also possible to generate a Bike Score to know the accessibility rating for cycling. This value is calculated by taking into account access to bike paths, reserved lanes, elevations, and accessible destinations.

Positive impact on prices?
The current trend suggests that Walk Scores will have a positive impact on the price of properties since buyers are increasingly influenced by the proximity to basic amenities.