From the Gay Village to the Quartier des Spectacles, and passing through the downtown area of Ville-Marie, Maurice Nantel shines a light on Montreal's dazzling beauty.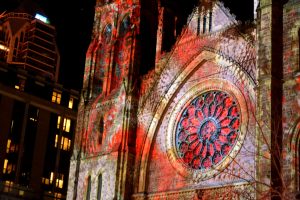 Along with Place des Arts, the Gay Village shares the title of Quebec's most significant cultural centre. A stroll through this neighbourhood will quickly show you why! On top of being one of the largest gay neighbourhoods in the world, the Village highlights urban diversity and a uniquely colourful visual style.
Village were a small city in itself where people go to live the good life.
The neighbourhood is home to all of Quebec's francophone television stations—such as Radio Canada, TVA, and Télé-Québec—as well as many radio stations, which contribute to the cultural vitality of the neighbourhood. Adding to this landscape and diverse visual identity is the Molson Brewery, one of the oldest industrial companies in Canada.
Elements that may seem contrasting actually create a rich harmony in the unique area of the Village, which spans all the way to the Quartier des Spectacles. Thus, it is possible to gather oneself in the stunning St. James United or St. John The Evangelist churches, then head east for a bistro-style gastronomic feast at 1000 Grammes, to finally cap the night with a one-of-a-kind cabaret show at Cabaret Mado.
Life is sweet when wandering through the Village's pedestrian-only Aires Libres, or when letting yourself get carried away by the hypnotic lights of the Place des Arts corridor. Even in the depths of the Place des Arts metro station, creativity is all around you! Just look up and you'll notice a carefully designed architectural style, as well as several works of art. As for Beaudry's metro exit, the columns were designed in the shape of a rainbow, evoking the iconic symbol of LGBTQ pride, and making you feel the warm atmosphere of the neighbourhood! In short, it's Montreal in all its diversity!
Follow us on Facebook and Instagram to discover other neighbourhoods in our beautiful city, seen through the perceptive eyes of Maurice Nantel of Studio WôWô.