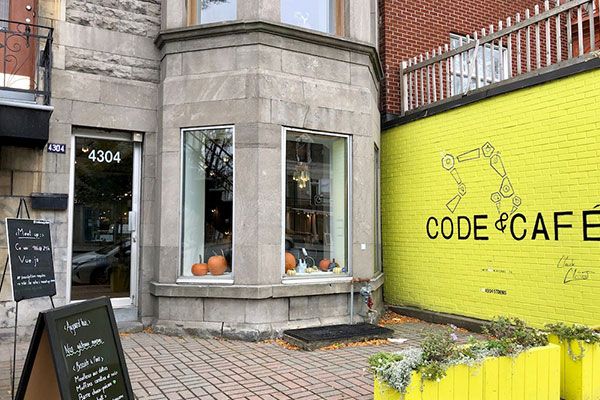 Join us in our discovery of Code & Café, a welcoming, motivating, and stimulating environment for creativity that is sure to be a huge success! Transformed by architect

Jean Beaudoin

, the

Code & Cafe

space is located on Saint-Denis Street, a central commercial strip in the heart of the Plateau-Mont-Royal.
The cafe's sleek decor creates an ambience that evokes the technical and creative world of information technology. The space features lights designed by Lampi Lampa that are made from recycled computer parts, seamlessly tying together the thematic concept of the place.
Who's it for?
The space invites young and old alike! It can be used to host tech workshops for children (at times accompanied by their parents), and can also be rented for conferences or teamwork. In other words, it's perfect for everyone!
What's its purpose?
Code & Café can function as a working space and a meeting space. We also host workshops on robotics and programming.
Do you offer different packages?
Of course! The space is available as a working area. And since there's no better way to kick-start your brain than by enjoying a delicious coffee, you'll be happy to know that drinks and snacks are included in our hourly rates. A barista will be pleased to serve you all our organic and fair trade coffees, along with our homemade cakes and cookies. You can even bring and heat up your own lunch! We also offer programming workshops for all ages: from 5 to 99 years old! There's no age for programming! After-school workshops are available for children aged from 5 to 12. Finally, we also serve as a meeting place to discuss a wide range of topics related to technology. In short, there's something for everyone!
Who's behind the project?
Second prize winners and recipients of $20,000 at the Portes Ouvertes sur Saint-Denis contest, owners Jacques Nacouzi and Christine Durant, also parents of three and residents of the Plateau-Mont-Royal, discovered the space at 4304 Saint-Denis Street. They're the couple behind this project—the same couple who created the Kikicode robotic workshops!
What does the future hold for Kikicode workshops?
We hope to receive more and more registrations. We're also open to comments and notes for improvement; we always take our participants' opinions to heart. We hope to retain our team of collaborators who do such a wonderful job hosting workshops!
Visit the Kikicode Facebook Page to join our community, or visit our website (https://codecafe.cafe/) for more information on our courses. Or simply drop by to say hello and enjoy a delicious coffee!