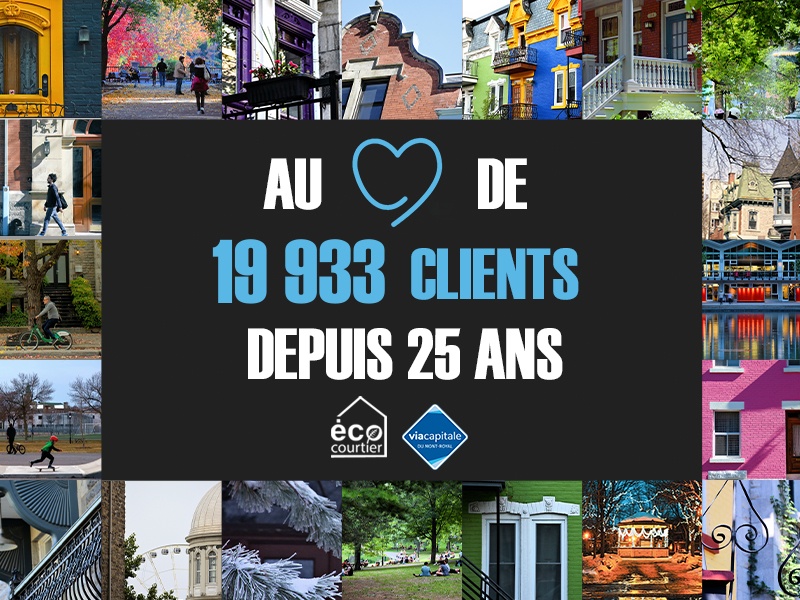 With 25 years in the heart of real estate, Via Capitale du Mont-Royal has been able to gather a unique team. Modest at the beginning, our agency has resisted the temptation to expand its operations without choosing its brokers. It was important for us to preserve the human dimension that characterizes us. We have never made the mistake of turning away from what should be the primary concern of a broker: the client. 
Year after year, our small team has grown, joined by people who share the same philosophy and values: honesty, integrity, social conscience, respect for oneself and others, professionalism. The customer is at the center of our concerns. This is the key to our success. 
We give our best every day. We have high standards. On every level. Our brokers accompany their clients and have as a mission to exceed their expectations. Similarly, the support and unfailing guidance that our brokers receive in their professional development from our administrative staff are exemplary. Together, we work hard and we trust in what we do!
97.9%. That's the satisfaction rating we received from our clients.
Our agency won the 2020 Customer Satisfaction Award given by Via Capitale, which rewards the agencies with the best customer satisfaction rate in their category!
Thank you to all our clients who were surveyed. Your many testimonials motivate us to continue to offer you the best of ourselves.
We are much more than a simple story of transactions, profits, and commissions. Our story is a matter of heart and expertise.
This year, Via Capitale is celebrating its 30th anniversary! Our agency has always honored the values of our company: Professional, innovative, human.
For my part, I am privileged to have supervised and accompanied my brokers through the purchase and sale of their clients' homes for all these years. More specifically, we have helped 19,933 clients! So many life stories, of people who have entrusted us with the responsibility of making sure everything runs smoothly. Beautiful, harmonious transactions and others that were more difficult. Listening, negotiating, consulting experts, reflecting, analyzing the facts, understanding the psyche of the parties, making proposals, counter-proposals, modifications and finally finding solutions and resolving situations. This is our daily bread.
I humbly embarked on this adventure with one thing in mind, a dream: to change the image of real estate brokers.
I believe that I have succeeded quite well!
Tchin-Tchin Via Capitale du Mont-Royal!
Nathalie Clément, Agency Manager at Via Capitale du Mont-Royal