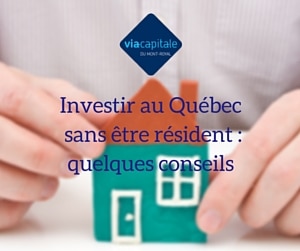 Can I buy a home in Quebec if I'm not a permanent resident? A lot of people from France are asking themselves that very question.
Buying a condo or apartment for your children who are studying in Quebec, investing in a vacation home, or making the big leap to settle permanently in the Belle-Province—the reasons to consider the Quebec market are abundant. This explains why so many people from France are attracted to the Quebec real estate sector, a market that is more appealing than its French counterpart, and this, even for people without a Canadian permanent resident status.
Regardless of your reasons for investing, the short answer is: YES, it's possible, but only under certain conditions!
– A good place to start is by doing your homework and INQUIRING about market prices. Determine the average property prices in Montreal to avoid getting duped by sales prices. The Quebec market is very different from the French market, and purchase prices in Quebec are totally unrelated to prices in France. Without a point of comparison, it's easy to make mistakes and unknowingly overpay, even if you're going in with good intentions. A small mistake can have major consequences at the time of resale!
– To ensure financial investment, it is essential to have a substantial down payment (ideally 35% of the purchase price). You can then consult with a banking institution in Quebec to get a mortgage (loan).
– To take out a loan in Quebec, you must have a good credit history and not be the subject of a banking suspension in your country of origin. The bank will verify these conditions and demand proof. This point only applies if you need to secure a mortgage loan in Quebec.
– Just like in France, there are other costs related to the purchase and maintenance of a property, such as notary fees, the welcome tax, school taxes, inspection, insurance, etc. These fees are calculated in addition to the 35% down payment. Plan ahead; include them in your calculations!
– Finally, if ever the property purchased must be resold, a tax is levied on the capital gains. The capital gains being: (cost of sales – cost of purchase) – cost of upgrades.
In this context, it's essential to be accompanied in order to invest in the best conditions. Trusting a Quebec real estate professional is not a luxury, it's a real asset. They will be an invaluable help for finding that ideal property, even if part of the transaction is done remotely from abroad.
Keep in mind that dealing with a real estate agent when purchasing a property comes at no additional fee. As a matter of fact, the seller is the one who will be responsible for paying the commission of both brokers (buyer and seller). All the more reason to be accompanied by a professional during your next real estate transaction!
The real estate agent will be at your side to help you find your dream home, and will be able to advise you and put you in contact with the right people (mortgage brokers, notaries, building inspectors, etc.)
Some real estate agencies offer specialized services for international transactions. Don't hesitate to contact them, it will simplify your life!
Contact Via Capitale du Mont-Royal without delay to start your real estate project in Quebec!
For more information:
Chambre des notaires: www.cnq.org/
Québec Association of Building Inspectors: aibq.qc.ca/fra/membres.php
Mortgage brokers: www.hypotheca.ca/