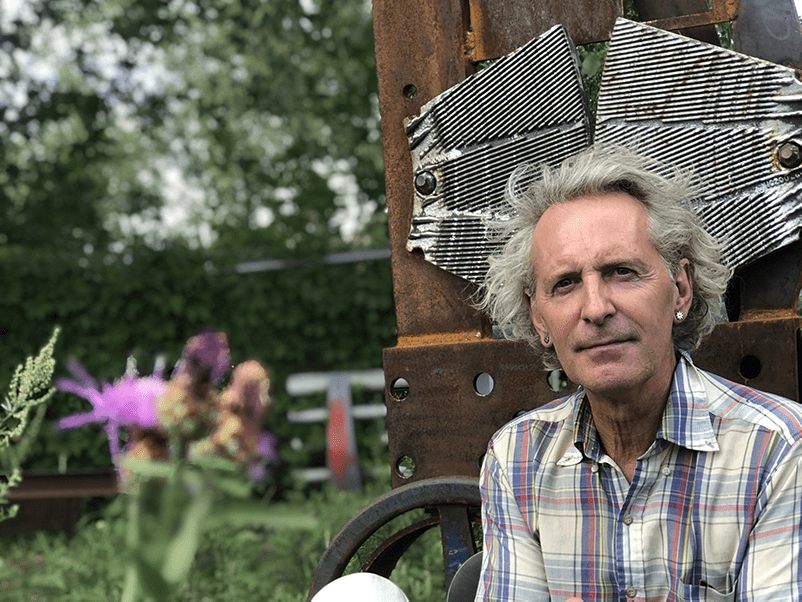 There are certain places in Montreal that allow us to get away from constant traffic and our senses can rest from constant overstimulation. With over 200 works throughout the metropolis, this is made possible courtesy of recycled iron artist Glen LeMesurier. His style, inspired by Expo 67, poetry and, in particular, the influence of the two Swiss sculptors Jean Tinguely and Bernhard Luginbühl, offers us a very dichotomous style, where the strength and rigidity of iron offers us a moving visual that seems almost like a poem. A little enchanting, a little industrial, Glen LeMesurier's works are to be discovered if you don't know them yet.
Artist Glen LeMesurier's career path
Glen LeMesurier is an artist originally from the Gaspé Peninsula, with a Gaspesian father and a Franco-Ontarian mother. It is thanks to his father, a mechanic, that he discovered his passion for machinery. One passion does not preclude another, he also takes a keen interest in the arts, music and poetry. One can observe in his works the influence that his mediums have on his sculptures and how they allow him to transform such a rigid material into something so fluid to the viewer. 
He has, for the most part, been self-taught in sculpting and creating beauty with his hands. In 2005, his talent finally allowed him to receive a grant from the Conseil des arts du Québec. This grant allowed him to travel in Europe and North America (Spain, Switzerland, France, Italy, Luxembourg) to be inspired and learn from others.
Materials chosen by Glen LeMesurier
The artist's works are mostly made of recycled iron. Glen often describes his desire to give new life to machinery or tools that have been so important in our industrial development. It can be interesting to compare iron and humans. Both often spend the first part of their lives in capitalist productivity and the second part of their lives simply doing good to the other by bringing beauty. The artist's goal is then to create the environment.
Iron also has the interest of being a solid and durable material. A work by Glen LeMesurier can have a life expectancy of 200 to 250 years. Iron is therefore a quality material that is easily found in Montreal in recyclable form.
An interesting point raised by the artist: iron is one of the two metals found in the inner core of the earth in its liquid form. The works are therefore a solidified version of our common core.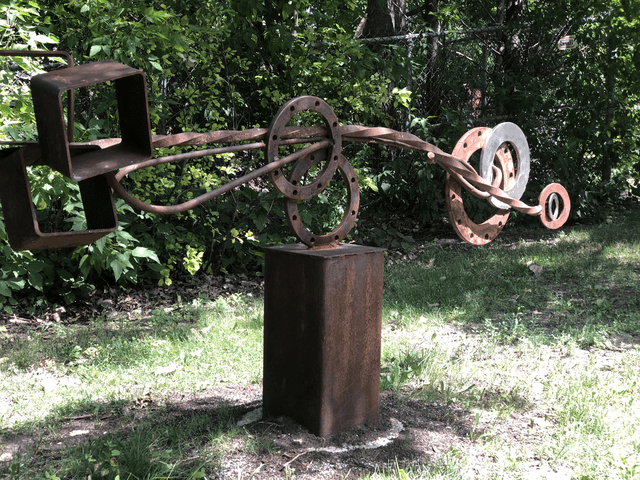 Where can we observe the works of Glen LeMesurier?
The largest collection of Glen LeMesurier's works accessible in Montreal is in the Crépuscule Garden. Located at the confluence of the Van Horne Viaduct and Saint-Urbain Street, this small garden, once illegal but known and tolerated by the authorities, fascinates and attracts us. One of the most beautiful ironies of this exhibition is that it is located on a former scrap yard, which shows how life can be truly circular. It was in the evening and at night that LeMesurier first planted one, then two sculptures, and finally several dozen more.
And then one day, the plot was too small. He then installed his next statues along the railroad track on the Carrières bicycle path from Saint-Urbain to Avenue du Parc during the EX Sculptura artist competition organized by the Rosemont borough. Still not having enough space to exhibit, he ends up asking people to install his sculptures on their private land. LeMesurier then named this new project Éclosion. Several citizens got involved in the project and some even acquired the work on their land. So, if you walk around the Mile-End district, keep an eye out for these great treasures.  
Since 2005, it is also possible to go to the Parc régional de St-Bernard de Lacolle to observe more than 35 of his works while walking in nature. Although we might think that his imposing metal works would not be particularly harmonious with nature, this exhibition shows us that we are wrong. The huge iron works integrate perfectly with nature and multiply over the years as do the tree paths that surround them.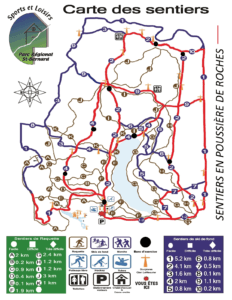 Finally, for the 375th anniversary of the city, Glen LeMesurier joins his talent with that of other artists from here and elsewhere for the Cité des arts du Cirque, created to anchor art in the public space for employees of Cirque du Soleil, La TOHU, the National Circus School and En piste.
Glen LeMesurier, an artist full of history
If you ever have the chance to talk to Glen LeMesurier, you will quickly realize that he is a charismatic person.
" Recycling is his signature. Glen LeMesurier creates sculptures by assembling metal objects found in industrial dumps. He has already sold some to Cirque du Soleil and Ubisoft. He also installs his works with a rusty patina on the public and private domain".
Funny thing, only two of his urban pieces have been stolen in the last few years, because they were not yet well fixed. When visiting the Crépuscule Garden, In fact, a few years ago, the artist spoke with a local tagger who had vandalized one of his pieces. After a lively discussion, the two men realized that they were in fact part of the same camp. Glen, who was placing his work in vacant lots in the city, was not necessarily doing so legally…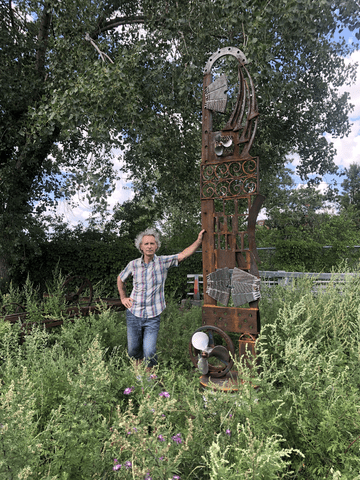 No tickets are required to visit these wonderful outdoor exhibitions. It is for the smiles of the passers-by and for the stars in people's eyes that the artist has installed them. If you come across him, do not hesitate to ask him the history of his favorite sculptures.
Via Capitale du Mont-Royal had planned a guided tour to help you discover Glen's works. Unfortunately, due to the exceptional situation, this activity has been cancelled.
However, nothing prevents you from doing the tour yourself! Since outdoor activities are a priority, take advantage of this opportunity to combine cultural activities with beautiful fall colors. To help you plan your trip, here is a Google Earth link.