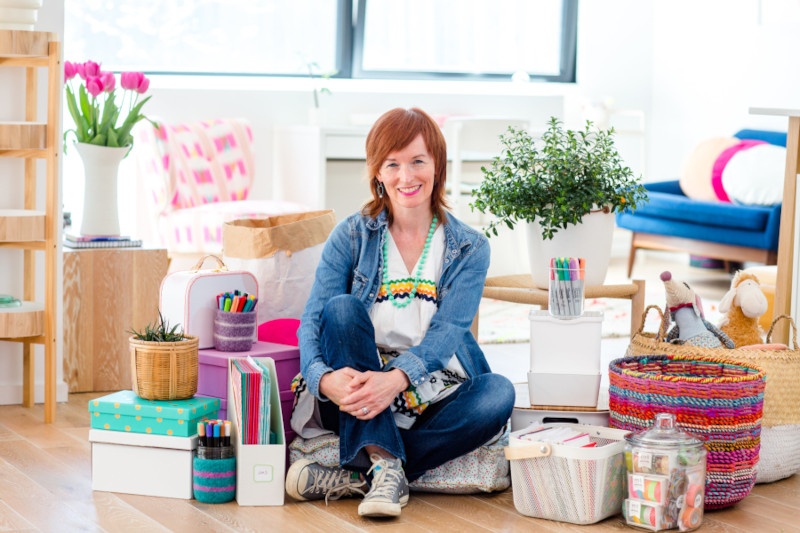 Tinka Markham Piper, Solve My Space founder (credit:
Vivian Doan Photography)
In a recent article, we discussed solutions for keeping a healthy home in times of confinement. It is in the same spirit that we are sharing with you today a piece on Tinka Markham Piper, "chaos consultant" and  founder of Solve My Space.
Tinka Markham Piper has her own way of approaching interior design. Indeed, her work is similar to that of a life coach, in that her primary goal is to ensure the physical and mental well-being of her clients in their environment.
From social work to interior design
Tinka holds Master's degrees in both social work and public health, and has had a long career in these fields. Notably, she worked for some 15 years in suicide prevention and epidemiology.
Always fascinated by interior design, she decided to create Solve My Space in 2012. In an approach that combines social work, project management and design, Tinka's mission is to make her clients feel better in their homes.
Anyone who calls herself a "chaos consultant" is not a typical interior designer. Rather, her job is to rethink spaces by organizing and de-cluttering them.
The clients Tinka deals with are often in a period of transition in their lives. For example, she helps many young parents organize their home space to adapt to their changing lives. 
Rethinking your home in times of confinement
Since the beginning of the pandemic, not only are we spending more time in our homes, but the uses we make of them have also multiplied.
Indeed, our homes have been transformed into daycare centres, schools and even workplaces. For many, this situation is quite a challenge, even overwhelming, and many have had to rethink the layout of their spaces.
In central Montreal neighbourhoods, even the smallest spaces are a challenge when the whole family has to live their various roles together in the same place!
For this reason, Solve My Space has been called upon by many people during this period. Since Tinka was unable to visit her clients in their homes, she decided to start offering online consultations through Zoom or Facetime. Over a hundred people contacted Tinka for advice. 
A professional at the disposal of our brokers
At Via Capitale du Mont-Royal, our brokers deal with a multitude of professionals to ensure that your transactions are easy and efficient. 
They sometimes call upon Tinka for her home staging services to make your properties attractive and airy.
When you do business with our brokers, it's a whole network of professionals who work together to give you the best possible service.
To visit the Solve My Space website: https://solvemyspace.com/
Solve My Space is also on Instagram (@solvemyspace), where Tinka shares content and tips of all kinds: tips for the home, before/after photos, affordable strategies, presentation of local companies and artists, etc. Subscribe to her account!
Have you had to reorganize your living space since the start of the pandemic? Tell us about it in the comments!